HOW WE MET AND PROSPERED MARCH 2020: AIDAN CARTWRIGHT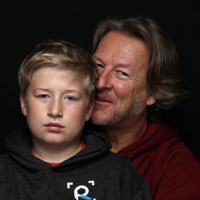 Welcome to the March 2020 edition of the Business Junction How We Met and Prospered blog series. This month we speak to Aidan Cartwright, Director at Reel Photogrpahy
Thanks for speaking with us today Aidan. Would you mind telling us about you and your organisation?
We are primarily corporate photographers. We take pictures and videos of anything and everything related to building and enhancing your business and brand – whether it's a great shot of you, your business premises, or your staff for internal newsletters, quarterly reports, social media, websites or marketing materials, or pictures and videos of a social event, we will create content that you can use to promote your company's brand, products and services. We also shoot video and are pretty handy with drones too.
But most importantly, we understand the reasons why people seek out the type of photography we offer. We come from successful and diverse business backgrounds, so you can expect understanding, dependability, experience, professionalism and humour when working with us.
What sets you apart in your business sector?
The corporate photography world is a crowded space so you do need something extra to stand out. The quality of our work and our dedication to getting exactly what the client is looking for is key to our success.
I think the fact that both Nick, my partner in Reel Photography, and I have come from fairly senior and diverse business backgrounds gives us an insight into exactly what will work in the corporate world. That and a creative flair from the design and advertising worlds that we inhabited.
How long have you been a member of Business Junction and what first attracted you to the network?
I have been a member for six years, two with Reel Photography and four with a previous enterprise.
Business Junction was initially recommended to me by an existing member. I was reluctant to attend because I find most networking events don't meet my expectations.
He eventually bribed me with the offer of free champagne and nibbles in Mayfair and I am very grateful that he did!
Have you made any good connections through the network and could you share some examples with us?
Business Junction membership has been invaluable for us. Apart from meeting some really interesting people and some real characters we have secured some significant and valuable business from other members.
It is difficult to quantify exactly how much business has been generated because recommendations soon went beyond the Business Junction family but we have certainly secured well in excess of £20,000 of new business in the last couple of years.
Has Business Junction helped your business in any other ways?
Having such a regular event schedule has been fantastic for Reel Photography. It is amazing how many opportunities present themselves just from being at the fabulous venues that the Business Junction hosts at.
Business Junction also has a system of 'member alerts' which is included in the membership package. This is an invaluable tool; members can look for help from a relevant business by posting their requirements and within seconds other members respond with tips and recommendations.
We have made genuine friendships through Business Junction and I can't think of an event that has not been at the very least entertaining.
What's been your favourite event to date?
It's very hard to pick one. The Dumpling's Legend Chinese New Year event in Gerrard Street is a firm favourite but that is mainly due to gluttony on my part.
We had an evening event in Lambeth Palace just before Christmas which was a bit special.
The Scotch Malt Whisky Society was also a bit of a hit.
Do you have a networking tip to share?
My tip, which I had to learn, was to be brave and just butt into a conversation. Nobody minds if you interrupt and join the group. Likewise, don't be afraid to leave the group to meet others. There is a temptation to stay chatting to someone who is interesting but my advice is get their details and reconvene later. Work the room, someone will be waiting for you to provide exactly what they are looking for.
My second bit of advice, if I am allowed two, is get to know Fiona. She is a guru at getting the right people together and will actively steer you towards the right people for you to meet.
How would you describe Business Junction in one word?
Essential
What would you say to our non-member guests about Business Junction and our networking events?
I have taken many people to Business Junction events as guests and they have all enjoyed the experience. However the benefits of becoming a full member are enormous.
I don't think you will find a member who has not benefited financially from being a part of Business Junction and even if you only make one profitable connection from your membership you will more than cover any cost of joining.
As a member, before and after each event, you get a full list of attendees so that you can plan your event to make best use of your time. If you use the secret sauce of 'Fiona introductions' you are guaranteed a fruitful event.
what our members say
"We have received a 20 times Return on Investment!"

Rupert Honywood

"Direct sales opportunities"

Liz Springer

"I have been able to grow my business far beyond my targets!"

Seema Mangoo