Featured venue for January 2019: Quaglino's, Piccadilly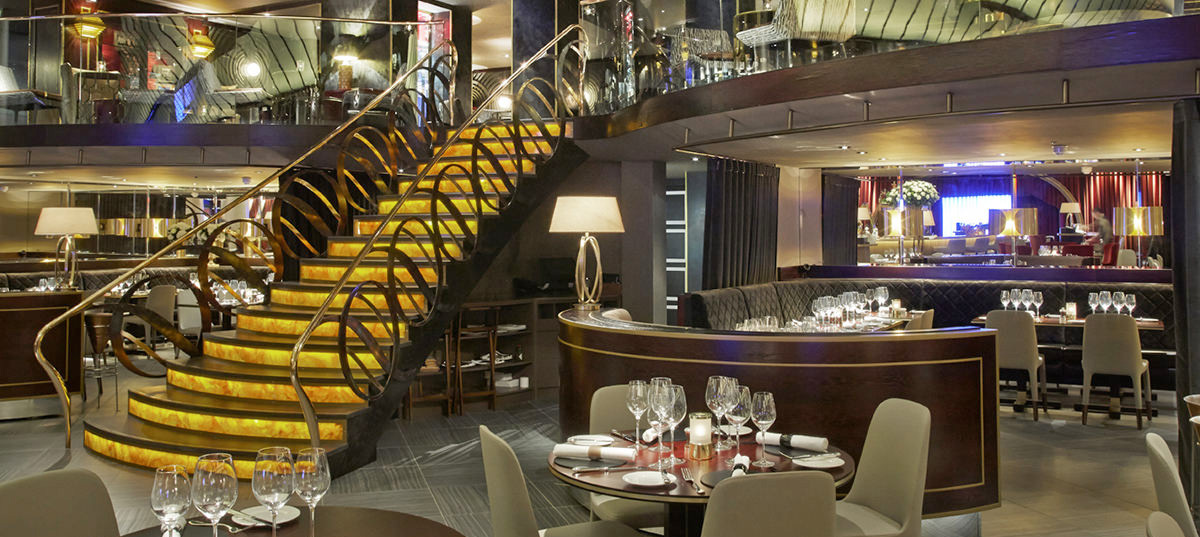 Each month, Business Junction will be featuring one of our prestigious upcoming host venues to be our featured venue of the month. Our featured venue for January 2019 is Quaglino's, who will be hosting our networking evening event on Wednesday 23rd January 2019.
Located in the bustling heart of the West End and a short walk from Green Park station, Quaglino's is a spectacular Art Deco restaurant, founded by Giovanni Quaglino in 1929.
With two spectacular private dining rooms, a labyrinth of semi-secluded areas, two striking bars and a show-stopping stage, Quaglino's has continuously been one of the pearls of the West End dining scene throughout its 90-year history.
Quaglino's quickly became one of London's most highly fashionable restaurants in the 1930s. Patronised by the Mountbattens, Quaglino's has a history of hosting an illustrious clientele, from the author Evelyn Waugh through to royalty. King Edward VIII was a guest at Quaglino's, and in 1956 Queen Elizabeth II dined at Quaglino's, making her the first reigning British monarch to eat at a public restaurant. The restaurant was also said to have a table permanently reserved for regular visits by Princess Margaret, the Duke and Duchess of Kent and Princess Alexandra.
Rich with iconic heritage from when Giovanni Quaglino first opened its doors in 1929, to its reinvention by Conran Restaurants in 1993, through to today, Quaglino's has always had its own place in London's history and has always impressed.
Having undergone a full-scale, multi-million-pound renovation at the hands of Russell Sage Studio in 2014, Quaglino's boasts up-to-date interiors married with its original Art Deco flourishes and sweeping staircase at the heart of its design.
Quaglino's menu, designed by Executive Chef Nuno Goncalves, offers a delectable canon of European dishes with a nod towards piquant Middle Eastern spicing; all made with the highest quality British ingredients. The iconic bar overlooks the grand restaurant floor, offering perfect balcony views of the live entertainment on show from Tuesday to Sunday every week. Led by an unsurpassable bar team, including renowned mixologist Frederico Pasian, Quaglino's bar features an extensive cocktail menu infused with innovative creations, staple favourites and new twists on old classics; all made using the finest spirits and home-made ingredients.
For wine lovers, Quaglino's carefully-selected list features a 300-bin wine list focusing on renowned European regions and balanced by carefully-chosen additions from the New World, including California, Chile and New Zealand.
Quaglino's is the venue to dazzle and with delectable menus, sensational entertainment and attentive service, it is ideal for any celebration: weddings, birthdays, corporate parties.
Business Junction is delighted to invite you to join a maximum of 160 companies at Quaglino's for our first networking evening event of 2018.
Our first networking evening event will be held at 5.30pm on Wednesday 23rd January at Quaglino's and will enjoy the attendance of business owners, directors and senior management from a rich mix of business sectors. An attendee list is circulated in advance to enable people to better prepare themselves.
Guests will be welcomed with a drinks & canape reception:
Smoked salmon cream cheese blinis, keta caviar
Spiced fig & Croxton Manor goats curd, parmesan shortbread
Whiting goujonnette

, tartare sauce

Black truffle & parmesan arancini
This event is free of charge for member companies and the non-member cost is £35+VAT. Please email admin@businessjunction.co.uk or call 020 3667 6776 with any event or membership queries.
Quaglino's
16 Bury Street
St. James's
London, SW1Y 6AJ
what our members say
"We have received a 20 times Return on Investment!"

Rupert Honywood

"Direct sales opportunities"

Liz Springer

"I have been able to grow my business far beyond my targets!"

Seema Mangoo