FEATURED VENUE FOR MAY 2019: ALTERNATIVE VENUES CHANCERY LANE, LINCOLNS INN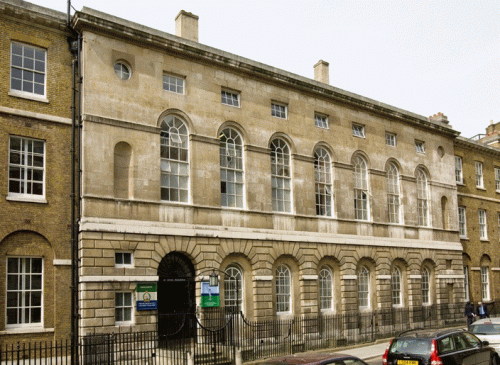 Our featured venue for May 2019 is Alternative Venues Chancery Lane, Lincolns Inn.
A prime location in the City, Chancery Lane, Lincolns Inn is moments away from Chancery Lane and Holborn Underground stations and is perfectly suited for corporate events. The building was constructed between 1770 and 1775 and is Grade I Listed.
Converted to The Inns of Court Officers Training Corp on the outbreak of WW1 in 1914, the building became the Headquarters of an Officer training organisation that by the end of hostilities had seen commissioned over 11.000 officers into the British Army.
Since that period, the Inns Of Court Regiment has survived in various forms within the Army Reserve, the latest being 68 (Inns of Court and City Yeomanry) Signal Squadron.
A frequent visitor to Chancery Lane, Lincolns Inn was Queen Elizabeth, the Queen Mother who was the Royal Honorary Colonel of the Inns of Court Regiment from 1961 to her death in 2002. There are portraits of the Queen Mother throughout the Officers Mess Suite as well as many other special portraits and paintings. The Inns of Court and City Yeomanry Museum is also located in the building.
The Officers Mess Suite consists of The Dining Room, Reception Room, The Bar and Ante Room which takes over the majority of the top floor of this stunning property. This space can be partitioned into separate rooms for smaller events or opened up and used in its entirety for a larger event.
Business Junction invites you to join us for our May networking evening event at Alternative Venues Chancery Lane, Lincolns Inn on Wednesday 29
th
May
Join over 150 companies for the Business Junction May networking evening event in The Officers Mess Suite at the RFCA at Lincoln's Inn. This event, held in the impressive 68 Signal Squadron TA Centre just off Chancery Lane, will attract 150 companies from across a wide range of business sectors. Every member company has two complimentary places at all Business Junction networking evenings. Non-members are always welcome and can visit up to two of our events before considering membership.
Typically attended by a mix of business owners, company directors, senior managers and corporate representatives from across all sectors, our guest list ensures effective and valuable networking opportunities for all attendees.
Everyone who has booked a place at the event receives an advance attendee list to help them better prepare. Guests are welcomed with complimentary drinks and a selection of canapés.
Spicy bean and cheese empanadas with avocado salsa

Butternut squash arancini balls

Mini wild mushrooms vol au vents

Baby pumpkin scones with aubergine relish

Goats cheese and roasted red pepper crostini

Baked cod on a chunky chip and pea puree

Chorizo, black olive and manchego wrapped in pata negra

Mini fillet of beef wellingtons

To follow:

New York cheese cake

Mini chocolate tart with whiskey cream
Every member company enjoys two free places at all of our evening events. Non-members can visit us on up to 2 occasions and each event costs £25+VAT.
Please email admin@businessjunction.co.uk or call 020 3667 6776 with any questions about the event or membership of the Business Junction network.
what our members say
"We have received a 20 times Return on Investment!"

Rupert Honywood

"Direct sales opportunities"

Liz Springer

"I have been able to grow my business far beyond my targets!"

Seema Mangoo