FEATURED VENUE FOR OCTOBER 2019: FARZI CAFE, HAYMARKET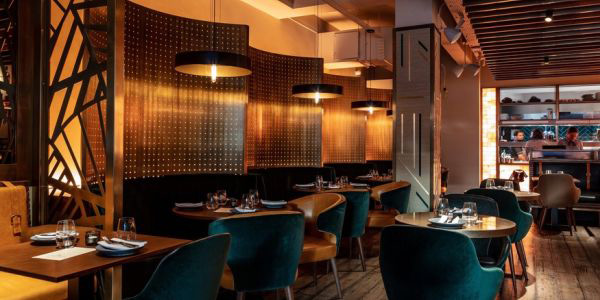 Farzi London is our featured venue for October 2019.
Farzi Café is a phenomenon in India, with multiple restaurants across the country and another international outpost in Dubai. Owned by Zorawar Kalra, dubbed the 'The Prince of Indian Cuisine', Farzi London is located next to the Theatre Royal on Haymarket.

Serving avant-garde Indian cuisine with a twist, Farzi is an eclectic modern restaurant with a lively and exciting ambience.
Offering contemporary Indian dishes and global classics, the restaurant prides itself on its progressive-Indian dishes with international influences however remaining true to the authenticity of the flavours. Farzi London has gained instant public and critical acclaim for its inventive, evolved menus - rich and complex - that focuses on the finest quality ingredients. Coupled with an energy and attentiveness in service and its vibrant and bustling atmosphere, Farzi London has quickly become a culinary hotspot for locals and visitors alike.
The bar team offers an impressive cocktail list, working closely with some of London's most celebrated mixologists to create a list of experiential cocktails with flavours which are elevated using the very latest equipment, including a centrifuge and an ultra sonic homogeniser.​
Join 60+ companies for business networking and cutting edge avant-garde Indian Cuisine with a twist
Famously friendly and welcoming and with a renowned culture for business productivity, Business Junction events are open to all business people from all business sectors and over 100 sectors are already represented in our membership of over 550 companies. 60 companies will attend this networking lunch event and everyone receives an attendee list in advance.
Our weekly networking events are held at consistently high-quality pan-London venues. Attendees are typically business owners, directors and senior management, skilled in the art of networking and quick to grasp opportunities to enhance business relationship potential.
Non-members are always welcome and can attend up to two events to try us out (£25+ VAT per place), after which they would then need to become members to continue attending events. Annual membership is £300+VAT which can be paid monthly at £25+VAT.
Please email admin@businessjunction.co.uk with any questions about this event or membership in general.
what our members say
"We have received a 20 times Return on Investment!"

Rupert Honywood

"Direct sales opportunities"

Liz Springer

"I have been able to grow my business far beyond my targets!"

Seema Mangoo