FEATURED VENUE SEPTEMBER 2019: RICH MIX SHOREDITCH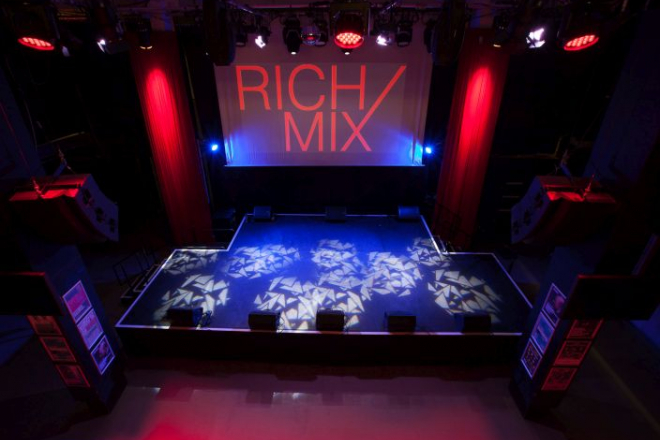 Rich Mix is our featured venue for September 2019.
One of the capital's most diverse and dynamic arts centre features live music, theatre, dance, visual arts and cinema from established and emerging artists, performers and musicians. Rich Mix comprises performance spaces and a three-screen cinema in their landmark five-floor Shoreditch home.

Their pioneering learning and participation programmes bring people from east London and especially Tower Hamlets into close, direct and life-changing contact with the arts.
Rich Mix offers a range of flexible spaces suitable for a host of events from corporate meetings and dinners to wedding receptions, Christmas parties, as well as three cinemas (special corporate screen hires are available).
Book now to join 50+ companies at Rich Mix Shoreditch for our Champagne breakfast on Wednesday 18th August
Our breakfast, lunch and evening networking events are renowned for their business productivity and are open to both members and non-members alike.
Kindly supported by Julian White Wines, guests are welcomed with a glass of Philippe Brugnon Champagne and a buffet breakfast prepared by Elysia – a pioneer British catering company with a sustainability focus preparing breakfasts and canapés made from seasonal and local produce. Elysia are committed to reducing food waste by purchasing beautiful surplus ingredients at a fair price from growers and producers in London and in the countryside and transform them into delicious bites. https://www.elysiacatering.com
A selection of sourdough bread with marmalade made from fresh "wonky" fruits & farmhouse butter
Organic granola jars with a natural British yoghurt & fresh fruit compote
Oat coconut biscuits & brownies made with beetroot pulp
Artisanal almond croissants by Pophams
At 8.30am we take to the boardroom table and guests then have the opportunity to introduce themselves and their businesses to the rest of the group. Afterwards, there is time for further networking, sharing of business knowledge, more champagne and breakfast.
The member cost for this event is £20 +VAT and your first breakfast on joining Business Junction is free of charge by way of a welcome event.
Non-members are always welcome and can attend up to two events to try us out (£25+ VAT per place), after which they would then need to become members to continue attending events. Annual membership is £300+VAT which can be paid monthly at £25+VAT.
Please email admin@businessjunction.co.uk or call 020 3667 6776 with any questions about the event or membership of the Business Junction network.
what our members say
"We have received a 20 times Return on Investment!"

Rupert Honywood

"Direct sales opportunities"

Liz Springer

"I have been able to grow my business far beyond my targets!"

Seema Mangoo