HOW WE MET AND PROSPERED April 2020: Sarbani Bose, Director Ei Square Ltd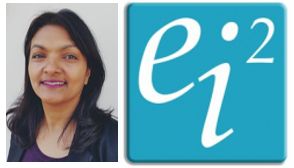 Welcome to the April 2020 edition of the Business Junction How We Met and Prospered blog series. This month we speak with Sarbani Bose, Director, Ei Square Ltd.
Thanks for speaking with us today. Would you mind telling us about you and your organisation?
I am the Managing Director of Ei Square Ltd, an IT consultancy firm, which specialises in bringing an organisation's systems data together and giving meaningful measures of their performance. So, for example, many of our clients, have a CRM system, a separate HR system, an invoicing system and none of these talk to each other. We help bring them together through our bespoke automated implementation (project). Once we deliver the project, clients then have a unified view of their business. This helps the executives to monitor the pulse of the business in whatever way they want to monitor.
Being in the IT industry, we also offer a host of other services, including Dynamics365 implementation, eCommerce website build, business process automation and application performance.
What sets you apart in your business sector?
IT is a broad term and IT consultancy comes under a crowded marketplace banner; however, our speciality area is still sparse. Our bespoke delivery, filling in the gap of making different systems talk to each other, the quality of our service combined with talking the language of our clients makes us very special!
I also think that our highly experienced UK-based consultants who give such meaningful and worthwhile solution to businesses, sets us apart and is driving our growth.
How long have you been a member of Business Junction and what first attracted you to the network?
I have been a member of Business junction for about a year. I was invited to Business Junction by an existing member as a taster session and I must admit that the moment I walked in to my first networking meeting, it just felt right.
Have you made any good connections through the network and could you share some examples with us?
The beauty of Business Junction is the variety of industries and sectors that share the same platform. We have managed to forge great connections and relationships with lots of sectors, especially in the hospitality and legal sectors. It is hard to put a value to it as some business has come through meeting people known to members of Business Junction, but we have already secured two big projects from being involved in this network.
Has Business Junction helped your business in any other ways?
Apart from getting referrals from members of Business Junction, it is also a good platform to seek out advice and services that we need, so yes it has helped us in other ways too.
What's been your favourite event to date?
All the Business Junction events are very well organised and there is a warmth to it that is very rare to find. The venues are so thoughtfully chosen that it is hard not to enjoy. The best so far for me has been the evening event on board the Tattershall Castle.
Do you have a networking tip to share?
I think it is important to be a good listener and forge real relationships. There is no sale without trust.
How would you describe Business Junction in one word?
Awesome.
What would you say to our non-member guests about Business Junction and our networking events?
Join. It takes time to build relationships, so the earlier you join the better value it will be.
what our members say
"We have received a 20 times Return on Investment!"

Rupert Honywood

"Direct sales opportunities"

Liz Springer

"I have been able to grow my business far beyond my targets!"

Seema Mangoo