HOW WE MET AND PROSPERED JANUARY 2020: JAY EVANS K MOSBY FINANCIAL ASSOCIATES LTD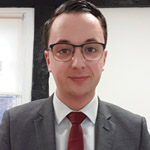 Thanks for speaking with us today. Would you mind telling us about you and your organisation?
We specialise in delivering a bespoke financial advice service to private individuals and businesses in order to help them find practical solutions to their financial needs.
Our advice covers areas of wealth management including retirement planning, tax efficient investment planning, inheritance tax planning and the wider areas of wealth protection such as life assurance, critical illness cover, income protection and private health cover.
Understanding our clients' current circumstances is crucial before discussing their goals and aspirations and we aim to help achieve these by implementing a financial plan. This is then reviewed on a regular basis to check it remains appropriate for our client's needs and we respond to changing goals and circumstances as they arise.
What sets you apart in your business sector?
We build long term trusted relationships with our clients that allows us to be there through different events through our client's lives and helps us to really understand what our client wants to achieve.
How long have you been a member of Business Junction and what first attracted you to the network?
We have been a member of Business Junction for coming up for a year now. What attracted me to Business Junction is the wide range of different businesses that are members and how well attended all their weekly events are with new faces every time.
Have you made any good connections through the network and could you share some examples with us?
We have made many great connections through the events which have led to new relationships and profitable referrals for our business.
Has Business Junction helped your business in any other ways?
Sharing in the success and knowledge of other members brings huge value and personal growth opportunities to your own business.
What's been your favourite event to date?
This is difficult as there have been many great events. I attended my first breakfast event at the Osteria at the Barbican Centre in December. With 55 companies present, it was hugely impressive and offered a great opportunity to learn a little about every business in the room which led to my connecting with 3 new businesses and it is very likely that work will come from it. Well worth attending if you get the opportunity.
Do you have a networking tip to share?
Always come to these events with an open mind and speak to as many people as possible. Try and avoid tunnel vision as you never know where an initial conversation can lead.
How would you describe Business Junction in one word?
Diverse!
What would you say to our non-member guests about Business Junction and our networking events?
Business Junction offers first class weekly networking events at great cental London venues that are always well-catered and would suit almost any business individual looking to connect with like-minded individuals from a diverse group of businesses. For just £300 per year for company membership, it is well worth investing in. Why not give it a go?
what our members say
"We have received a 20 times Return on Investment!"

Rupert Honywood

"Direct sales opportunities"

Liz Springer

"I have been able to grow my business far beyond my targets!"

Seema Mangoo