HOW WE MET AND PROSPERED OCTOBER 2019: RUPERT HONYWOOD, BUSINESS GROWTH BUREAU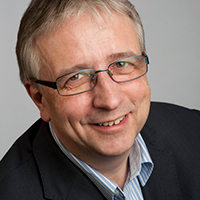 Welcome to the October 2019 edition of the Business Junction How We Met and Prospered blog series.
Last month we spoke to Samantha Cohen, Managing Director of SJC Bookkeeping.
In this edition, we speak to Rupert Honeywood, Owner of the Business Growith Bureau and long standing Business Junction member.
Thanks for speaking with us today. Would you mind telling us a bit about you and your organisation?
I formed the Business Growth Bureau 5 years ago to help companies to put in place strong strategies for growth following our Social Selling Blueprint.
Business Growth Bureau has since evolved into a more substantive organisation and we want to be "Your Strategic Partners, Mentors And Your Advisory Board In Achieving Excellence In Leadership And In Biz-Growth"
We do this by helping you through business and life's challenges to seek out opportunities in a highly supportive framework, working with Leaders and CEO's to help you to excel and who act as your advisory board.
What sets you apart in your business sector?
You can benefit from our facilitated workshop programme "Your 12 Pillars For Growing You And Having A Successful Business" and the syllabus is as follows:
Your Why – Your Motivation
Your Personal 5 Year Plan
Your Business 5 Year Plan
Your Brand Assets
Your Products
Your Markets
Your Marketing Plan
Your Board, Leaders and Teams
Your Systems
Your Finance – Knowing Your Numbers
Your Assets – Your Intellectual Property
Your Scalability
How long have you been a member of Business Junction and what first attracted you to the network?
We have been members for over 4 years. Fiona Ross, the founder of Business Junction, is fantastic, as are the Business Junction team, and I regard Business Junction as a dynamic business organisation which really gets to know and cares about its members.
Have you made any good connections through the network and could you share some examples with us?
I have made a good number of connections and now work closely with a firm specialising in trademarks and intellectual property and another member company whose practice specialises in HR and dispute resolution.
Has Business Junction helped your business in any other ways?
It is a very supportive and responsive organisation, quick to faciliate its members with a range of business introductions and advice, and they have a great team who are a pleasure to deal with.
Do you have a networking tip to share?
Always show an interest in the other person you meet and always follow up afterwards. Imo and importantly build on the depth of relationships that develop.
How would you describe Business Junction in one word?
Dynamic!
What would you say to our non-member guests about Business Junction and our networking events?
Just join – it is extremely affordable and great value for money and will be the best investment in a networking membership that you will ever make. We have received over 20 times Return on Investment!
what our members say
"We have received a 20 times Return on Investment!"

Rupert Honywood

"Direct sales opportunities"

Liz Springer

"I have been able to grow my business far beyond my targets!"

Seema Mangoo