London Business Directory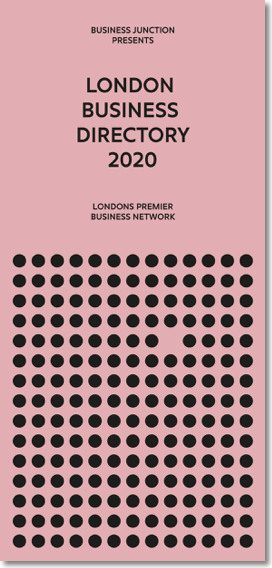 The London Business Directory 2020, now in its 19th year and bigger than ever, contains the company information and contact details of over 500 dynamic business in London across all sizes, sectors and expertise.
Business Junction members get a free listing in the Directory, which is distributed to all members, guests at our 50+ annual events, at a wide range of business exhibitions and across key commercial sites in London, thus benefitting Business Junction members from a wide and ongoing exposure.
New for 2020, the online digital version of the Directory (updated every month to include new members) is aimed at an even wider business audience and members can use weblinks, narratorial and video in their adverts and profiles. If you have any questions about membership or how to join and get listed in the London Business Directory 2020, please get in touch with us by email and we will be happy to help.
We look forward to rescheduling our annual flagship directory launch evening event at Glaziers Hall at the earliest possible opportunity. With over 300 companies attending it is considered one of London's premier network evenings and is always a special date in the Business Junction diary.
The London Business Directory is directly targeted at London's B2B community and is distributed throughout the year at all of our 50 networking events, B2B exhibitions, and pertinent business venues including County Hall, British Library, City Business Library, business centres, serviced and shared offices and other important commercial and leisure venues.
Everyone who attends any of our 50 annual events is given a copy of the Directory and that's a total of 4,500 business directors, senior managers and entrepreneurs who will have access to your business details.
Get your free listing in the London Business Directory 2020
To get your free company profile listing in the London Business Directory - the only quality annual listing of over 500 of the capital's best and most ambitious businesses - apply to become a Business Junction member now. Business Junction membership is for the company, not just an individual, and is available to any business, whatever your sector, size or expertise, for an annual fee of £300 plus VAT, which can also be paid monthly at £25+VAT. All new memberships will currently receive 3 month's free membership to allow for the break on our events calendar.
Enjoy all your first Champagne networking breakfast FREE OF CHARGE
As a welcome event to our new members, you can reserve a free place at one of our monthly Champagne networking breakfasts. You can find a list of all our events in our events section.
We host over 50 annual networking events including weekly lunches, monthly business breakfasts, evening events and special themed events – all at the most exceptional venues in every corner of London. 3,500 business directors, senior managers and entrepreneurs enjoy attending our events each year to help grow their trusted networks and bring them new business.
As a Business Junction member, you will also receive our dedicated Alert emails to keep you in touch with opportunities and referrals from other members, let you know about new suppliers and allow you to pass on recommendations between events. Business Junction members consistently report that Alerts help them to improve their range of suppliers, strike up new deals and increase their revenue.
For more details about joining Business Junction and getting listed in the London Business Directory, click here, email admin@businessjunction.co.uk or call 020 3667 6776.
Advertising in the London Business Directory 2020
Advertising in the online London Business Directory boosts your profile and help you stand out from your competitors all year long.
Premium pages give you the highest visibility:
Outer back cover full page advert PLUS 6 months website sidebar ad: £1500
Inside front cover full page advert PLUS 6 months website sidebar ad: £950
Inside back cover full page advert PLUS 6 months website sidebar ad: £950
Inside page advertisements
You can choose to take a full-page colour ad opposite your alphabetical listing.
Inside full page advert: £495
Inside full page advert PLUS 6 months website sidebar ad: £795
Advertising on www.businessjunction.co.uk
The Business Junction website attracts an average of more than 3,000 different companies a month and over 140,000 page views every year. It has become a valuable portal for London's business community and provides visitors with a place to find information about how to improve their businesses, where to source suppliers to support them in their financial, technical and operational needs and how to identify opportunities to connect and network.
With hundreds of members and thousands of page views each month, businessjunction.co.uk is the ideal place for your company to get noticed by directors, senior managers, and entrepreneurs. These people are decision makers and experienced networkers whose influence in London's professional community is unparalleled.
Our sidebar web advertisers attract between 100-200 click-throughs per month. Adverts can be changed free-of-charge once per month. The ads are available on every page - see www.businessjunction.co.uk.
The following web advertising pages are available:
Website banner advert: £350 per month
Website side-bar advert: £95 per month
If you would like us to reserve any pages for you, please let us know as soon as possible. For more information about membership or advertising requirements, please email admin@businessjunction.co.uk or call 020 3667 6776.
what our members say
"We have received a 20 times Return on Investment!"

Rupert Honywood

"Direct sales opportunities"

Liz Springer

"I have been able to grow my business far beyond my targets!"

Seema Mangoo